Gross Revenue:$208,884
EBITDA:$63,553
FF&E:$500
Inventory:$100
Lease Rate:N/A /SF
Established:2002
Business Description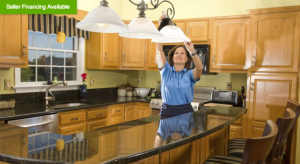 This is the premier residential cleaning franchise with outstanding systems and processes in place to help the franchisee succeed. Franchisor will provide training as part of the transaction. As well the current franchisee will ensure a smooth transition of the business. The business is located in a terrific territory with established clients and ready made business awaiting your energy and effort to further grow the market area. If you are looking to enter the cleaning business and benefit from the years of customer goodwill then this is the business for you. The business has been established here for more than 14 years. The business is widely known for their exceptional customer service and attention to detail. Ownership will stay on to ensure a smooth transition of the business and operations continue smoothly. Bring your desires, knowledge and know how and this business is a winner.
Benefits and Support of a Franchise:
The Power of a Brand Leader… A name brand known and trusted by millions of consumers.
Superior Products… Products that work, are safe.
---
Attached Documents
---
Detailed Information
Inventory:

Included in asking price

Real Estate:

Leased

Building SF:

500

Lease Expiration:

N/A

Employees:

4

Furniture, Fixtures, & Equipment (FF&E):

Included in asking price

Facilities:

This business can be operated out of your home or from a small office space. This limits overhead expenses and increases the amount of money the you can put in your pocket every month!

Competition:

Have a secure marketing territory including:, Bolingbrook, Lockport, Downers Grove, Lemont, Homer Glen, Woodridge, Romeoville, Darien and Willowbrook to name a few.

Growth & Expansion:

Premium Advertising from Franchisor… Franchisor dedicates extensive resources in marketing and advertising each year with targeted marketing to consumers in your targeted area. Dedicated Help Line and Customer Service… from the Franchisor State of the Art Proprietary Customer Management System… To assist you in maximizing every relationship with customers and workforce. Local Ownership Round table Meetings with other Franchisee Owners in your Regional Market… Meet with other peers periodically and share ideas about things to help each others business and future business decisions.

Support & Training:

Ongoing Training, Operation and Marketing Support… Franchisor provides initial and ongoing training. New owner training provides a virtual classroom of education on critical business topics such as Franchisor's operational knowledge and know how, inventory control, financial procedures and customer service. Ongoing training opportunities include online training resources and web based training, webinars and specialized training opportunities.

Reason for Selling:

Other business interests

Franchise:

This business is an established franchise